For sometime now, I've had my eyes open to see what would be the next viable alternative to the traditional Windows/PC mainstay. Over a number of years, we've had various implementation models like centralized computing, the use of thin clients; and further back, dumb terminals. As the internet has matured, web-based applications have naturally taken on a larger role, with most users doing fewer tasks on programs that run on a PC platform. Since my preferred browser is Chrome, I decided that it was time for me to check out a Chromebox. After a bit of research, I purchased the ASUS M-004U for around $160.
Chromebox Specifications
The Chromebox is a 5-inch square device that runs the Chrome operating system, which to the user is basically the Chrome browser with some extra features for managing network connections, users, USB devices, and display devices. It does not run installed programs such as exe and msi install files. If you attempt to download an exe file, it will download, but clicking on it simply won't do anything.
The Chrome operating system is based on the Linux OS. The Chromebox has no moving parts such as a platter-based hard drive or cooling fan. It has a 1.4 GHz Intel Celeron processor and 2 GB of RAM, which is expandable to 4 GB. It has a 16 GB solid state hard drive. It has four USB ports, one HDMI output, one DisplayPort output, one Ethernet connection, and one standard audio output for speakers and microphone. It has built-in wireless connectivity as well as Bluetooth.
Chromebox Setup
Setting up the Chromebox is just a matter of connecting the peripherals, then plugging it into the power adapter and turning it on. It boots up in about 8 seconds, and I think part of that time is determined by how fast the monitor responds. My monitor has a digital video interface (DVI) connector and the old analog monitor connector. I bought a DisplayPort to DVI adapter, which worked fine. I expect HDMI throughout might respond more quickly. Still, the startup is lightning fast compared to a Windows PC.
When the Chromebox starts up, it has you log in with a Google account, or create a new one. This account becomes like an administrator account, allowing you to add other users and control device and security options. You can allow guest browsing, which enables anyone to use the Chromebox without setting up a Google account. Because I have young kids, and because I prefer to keep things locked down anyway, that was the first thing I disabled.
There is a pretty good parental control feature called supervised users, which lets the administrator add accounts for children that can be set to disallow or only allow certain websites. Browsing history can also be viewed by the administrator.
What Can You Do On A Chromebox?
The real test now is to see how much of my daily computing needs can be done with the Chromebox, which is really just a Chrome browser "ecosystem", employing browser apps and extensions. You download extensions by going to the browser menu in the upper right, then go to More Tools> Extensions.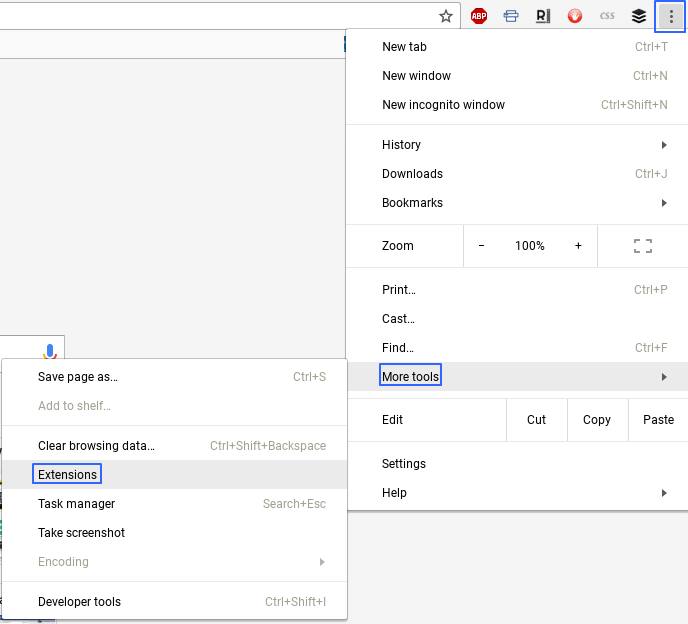 You can also type chrome://extensions in the browser address. Some extensions are listed as Apps, which after install are displayed under the Chrome menu button, located in the same place as the Windows start button at the lower left of your screen. Here is what my Chrome desktop looks like after clicking the applications launch button: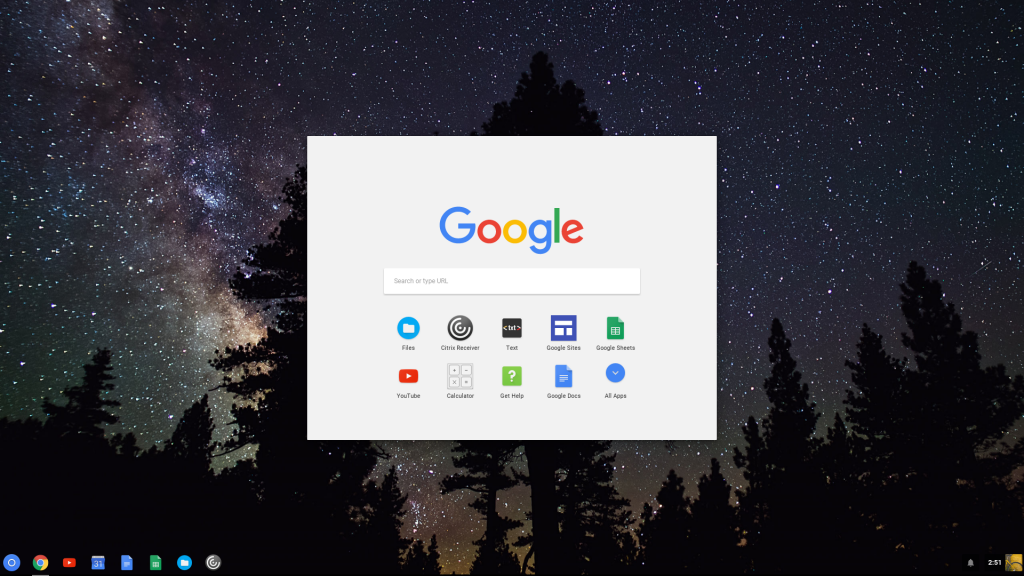 Let's jump into how I fared in my attempt to replace my Windows PC functions. I'll start with the easier part, which is my non-work related activity:
| | |
| --- | --- |
| Task | Outcome |
| Basic web browsing – videos, shopping, streaming music, paying bills | As expected, I was able to do all of this with no disruption. The Chrome browser loads and runs very quickly, and I am able to have many tabs open. |
| Maintaining this website, which runs on WordPress. This also involves logging into my domain to do some back-end file maintenance, usually via file transfer protocol (FTP) | Everything stayed the same regarding the maintenance of this website, except that I no longer can use my PC-based FTP program. There are some browser extensions available, but so far, I've just been managing my site files from my hosting provider web-based control panel. |
| Creating and editing graphics from sites like Canva and Pixlr | Canva works exactly the same. The menus on the Pixlr site are really tiny and don't render clearly. Otherwise Pixlr looks basically the same. |
| Creating and editing documents, presentations and spreadsheets; previously through the usual Microsoft products | Must now use Google docs for MS Word documents, and Sheets to replace Excel. I just needed to upload the files to my Google Drive account. When uploading multi-worksheet Excel spreadsheets, only the first worksheet gets uploaded. |
| Occasional code editing using an editor like Notepad++ | After trying a few browser apps from the Extension Store, I settled on an app called Text. It works offline, has line number markers and a minimal design. |
| Printing to an older model HP wireless printer | My printer didn't connect using the standard Google Cloud Print function, but I was able to get it to work using the HP Print for Chrome extension. |
|  Screen capture and annotation using Greenshot | For the PC, Greenshot is one of my favorite tools for capturing and annotating screen shots. This is the only thing that I really miss in going to the Chromebox. The Chromebox feature lets you do a screen capture by hitting the print screen button, just like in Windows, and it will save a file to the local folder. You can then do some basic cropping, but the feature is very basic. I tried a couple of extensions, but I didn't find any that I liked. |
I'm able on the Chromebox to do about 95% of everything that I used to do with a Windows PC. There are a few minor annoyances, like not being able to change my mouse cursor. All things considered, I give this aspect of the Chromebox a grade of B+.
Healthcare IT Analyst Tasks On The Chromebox
The next test is to see if I can do most of my work tasks for the times when I work from home. My day job is an Epic Applications Analyst with a local hospital system. If I am completely unable to do my work functions on the Chromebox, I can still just bring home my laptop and connect to the VPN. Here is a rundown of the main tasks that I do every day, and how it all worked out:
| | |
| --- | --- |
| Task | Outcome |
| Connect to VPN via Citrix | In order for this to work, I had to install the Citrix Receiver app. I then saved my workplace VPN settings and launched the connection by opening the Citrix Receiver. |
| Launch Epic Hyperspace Application | The main Epic front-end application is called Hyperspace, and it is configured as a published application via my workplace VPN. I was able to run it with no problems from within the Citrix Receiver app. |
| Launch Epic text-based terminal emulator program | Many administrative functions in Epic are done from a command line text-based utility that is sometimes called 'the dark side'. I had no problem running this either from my workplace VPN or a locally installed terminal emulator from the Chrome extension store. |
| Connect to workplace Sharepoint sites | This can be done if a VPN has a hosted instance of Sharepoint that launches a hosted version of Internet Explorer. This did launch for me from within the Citrix Receiver, but it was slow and the display didn't look very good on my monitor. |
| Connect to shared private drives through the VPN | I wasn't able to get to my shared drives at all. There may be a setup issue from the infrastructure end that I don't know about, but it wasn't really worth my time to reach out to my colleagues on that end. |
| Outlook Email | The Chromebox cannot run PC-based programs, which includes email clients. I haven't been able to find email clients at the extension store, so I was confined to the web-based MS Exchange solution. |
Overall, I was able to do about 80% of my work-related tasks on the Chromebox, but some were not very efficient. I will probably continue to use my VPN-connected laptop at home most of the time, and just use the Chromebox when I need to take care of quick tasks on the fly. My grade for using the Chromebox in a corporate VPN setting is C+.
Overall, I'd grade the Chromebox a solid B, and I feel like it's a great alternative for most functions.
I'm curious to see if the Chromebox could ever be used as a widespread solution in a corporate setting. There would be the benefit of little to no administration, and no need for client side software installations. In addition to the challenges I've just pointed out, there would also be the barrier to connecting peripheral devices, including those involved in patient care, like EKG devices. I just don't see that happening any time soon with the Chromebox.
Summary
Reviewer
Review Date
Reviewed Item
Author Rating





I have made my career in Healthcare Information Technology, and every day I love what I do. I have done project management, training, database work, some programming, and have implemented electronic medical records, interfaces, and more. I created HealthcareITSkills.com to help people begin careers in Healthcare Information Technology.

Latest posts by Dave Newman (see all)