An important skill for your IT career is the ability to create basic diagrams which show technical concepts, process flows, system diagrams, and organizational structures. Even if you are not a project manager or executive, you still need to be able to put together these kinds of visual aids. I'm excited to share with you a free online flowchart maker called Gliffy that I use from time to time to easily create all kinds of technical and process related diagrams. There are several inexpensive or free tools that can do the job, but Gliffy is different than most in that it is available as a free Google Chrome extension in addition to a full-featured website. Because I use Chrome for just about everything I do on the Web, I'll focus on the Gliffy extension. Gliffy is also a great alternative to Visio. The subscription based Gliffy website has more features, as this is how they pay the bills. I also wanted to mention that I wasn't given any official recognition or pay for this Gliffy diagrams review. With that, let's get started.
Install the Gliffy Extension
If you've never installed a Chrome extension, you can get there two ways. The easiest way is to just type chrome://extensions into the address field in Chrome. The other way is to go to the menu, then go to More Tools> Extensions.
This view shows the extensions that you currently have installed. Scroll to the bottom of the page and click on the Get more extensions link. Next, search for "Gliffy" to find the extension, Then you click the button to "Add to Chrome".
Run the Gliffy Extension
You can launch Gliffy two ways. The easiest way is to launch from Chrome by typing chrome://apps into the address field in Chrome. Then just click on the Gliffy icon. The second way is through the start menu on your PC. Just search programs for "Gliffy", and you'll see that it shows up as "Gliffy Diagrams". This highlights a great feature of the extension in that it also works offline for times when you have no internet connection.
Gliffy Features
Gliffy is super easy to learn just by playing around, and there is also a YouTube channel at youtube.com/user/GliffyGliffy. However, I will highlight a few of the kinds of diagrams you can create. First off, we have swimlanes, which are used to show how job duties or workflows proceed through various stages. You first open the Swimlanes menu, then drag over the desired framework. In the example below, we have a two lane horizontal diagram.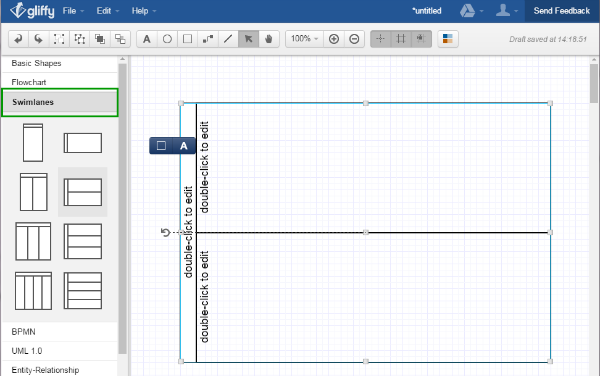 Wherever you see this button

you can click on the square area to edit the properties of the item, or on the "A" area to edit the text label for the item.
Next, go to the Shapes menu and drag over any shapes you need to the diagram workspace.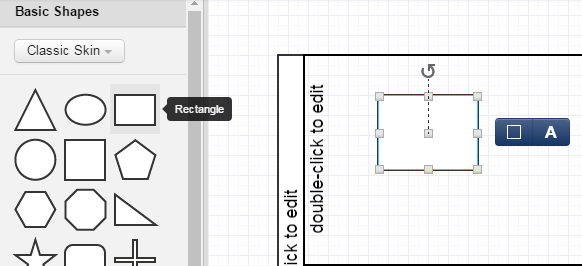 Once you have all of the shapes that you need, you will then need to connect them using the connector tool on the Gliffy toolbar. The toolbar also has several other common features that allow you to change color themes, add text, and group shapes together.

Here is an example of a partial workflow for a patient visit to a physician's office: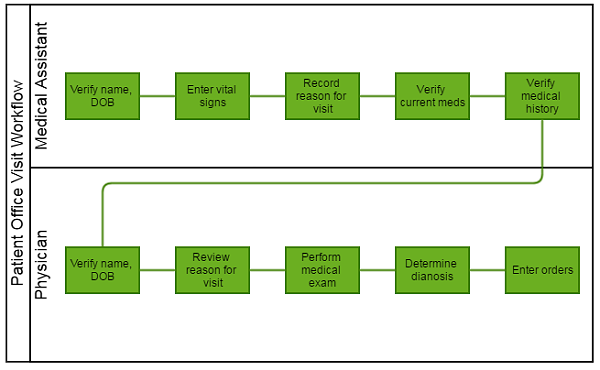 Gliffy also has a pretty good set of components to show networking and server diagrams. These are under the Network menu: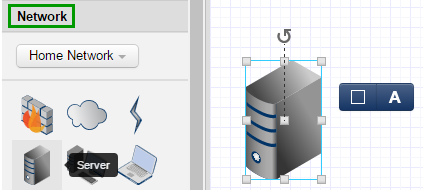 Here is an example of an organizational chart in a hospital IT department: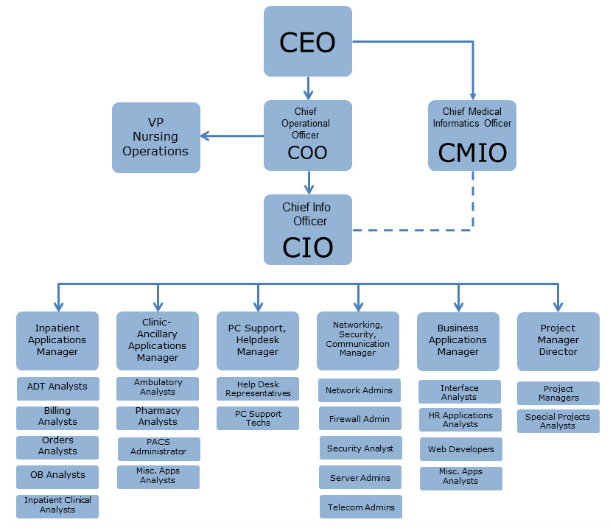 Lastly, if you're into Google Docs, you might like that there is an Add-On that integrates your Docs with Gliffy. I hope that this post has given you some ideas on how you can use this fantastic tool from Gliffy to help you create great quality diagrams and workflow documentation.
Summary
Reviewer
Review Date
Reviewed Item
Author Rating