A Health Information Exchange (HIE) is a technology solution that enables Healthcare providers and organizations to share patient information electronically between systems that would otherwise not be connected. If you as a patient receive care in a different city, state, or even country; a connected provider could use an Electronic Health Record (EHR) system to retrieve your vital medical history from an HIE. That data resides natively in another system. You can think of the HIE as a data clearinghouse among many clinical participants. Every system that sends or receives data on an HIE follows a data standard to ensure correct formatting.
The adoption of HIEs has gotten a boost by the Federal Office of the National Coordinator for Health IT (ONC). The department was established via Executive Order in 2004, and has been very active in Healthcare IT policy since. Also, Congress has allocated $548 million to the states to help fund the implementation of HIEs for the States.
HIEs address many problems that have existed in the delivery and coordination of care. For example, when patients have care among several providers who do not share information, this creates fragmented care. That fragmentation can lead to duplicate orders and testing, medication errors, and possible errors in diagnosing medical problems.
Many practices have used faxing for years to communicate patient information, and while this is better than nothing, it has inherent disadvantages:
You usually need to be at the fax machine to receive records
Even if you use e-faxing, the data is still in document format, meaning the data cannot be extracted and analyzed
Mechanical failures can trash the documents, as we've all experienced
So it's easy to see why HIEs can make coordination of Healthcare much easier and efficient. Let's have a look at the different types of HIEs.
Types Of Health Information Exchanges
Directed Exchange
This is probably the most common form of HIE. In this setup, there will be providers from many different types and sizes of medical practices, also using different EMR vendors. Exchange data is sent over an encrypted secure connection. Here is a scenario of how this kind of HIE transaction would occur:
You visit your Primary Care Physician (PCP) to be seen for some allergies that have been difficult to diagnose. The PCP is on an EMR that is connected to a State operated HIE. The PCP will refer you to an Allergy Specialist who is on a different EMR that is also connected to your State's HIE.
The data that needs to be communicated is your list of known allergies, medical conditions, labs, and insurance information. The data would be pushed to the HIE by the sending Provider during or after your initial visit.
Another example of a Directed Exchange that has been around for a while is Immunization Registries. While some may call them Registries and not HIEs due to being a single set of data; I don't think that really matters. Most that I've researched are seen as both Registries and HIEs.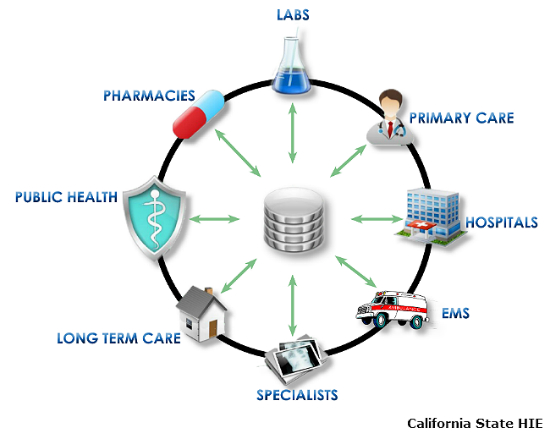 Query-based Exchange
Where the Directed Exchange is more of a "push" transaction, a query-based transaction is a "pull". In the above example, the Allergy Specialist would initiate a transaction that queries the patient's PCP for all of the relevant clinical data.
The query-based transaction is also extremely helpful in cases of unplanned care. If a patient lands in the ER away from their hometown, the facility can query an HIE to gather the information needed to provide the best possible care.
Consumer Mediated Exchange
In a Consumer Mediated Exchange, patients are involved in the collection and transmission of Healthcare data to Providers. They may use a cross-platform solution such as Microsoft HealthVault to input data, including the collection of data from fitness devices and Apps. They may then document any medications or conditions that have been missed during office visits. HealthVault would transmit that information to a State HIE. From there, the information is added to the rest of their medical record when downloaded by a care Provider.
Health Information Exchange Vendors
HIEs can be components of existing Electronic Health Records (EHR) systems, or developed as standalone applications. The two largest  EHR vendors – Cerner and Epic each have their own HIE components built into their architecture. Those systems are mainly intended to share records between many providers of those native systems, but also have the ability to share data 'on the open market' to competing EHRs.
Vendors who develop their own standalone solutions include Covisint, Informatics Corporation of America, and Infor. In 2015, there was a lot of news concerning EHR vendors' participation, or lack thereof in HIEs. Many of the large electronic health records vendors, such as Cerner and athenahealth participated in the CommonWell Health Alliance, with Epic resisting calls to participate. This caused many industry analysts to criticize Epic, charging them as being opposed to sharing health data. However, in early 2016, Epic did get on board with the Carequality Interoperability Framework.
Do Health Information Exchanges Work?
As with a lot of technology in Healthcare, some things are hard to measure. HIEs will very likely result in an increased satisfaction by patients as their care becomes more integrated. A study published by Perspectives in Health Information Management indicated that only 50% of HIE executive are even planning on using metrics to measure success. However, from the executives they were able to survey, 56% reported positive return on investment, and 44% felt that more evidence was needed to determine success.
A 2014 study by the NIH indicated that use of an HIE may reduce the rate of hospital admissions from emergency department visits. (HIE and hospital admissions)
Thanks again for taking a minute to learn about Health Information Exchanges. Feel free to email me from the contact page, or Twitter @HealthITSkills.
I'll close by highlighting one of my favorite success stories of a Health Information Exchange. Washington State has been able to reduce unnecessary Emergency Room visits by around 10% by implementing a single-use HIE to track overuse of ER services. Click on the image below to learn more.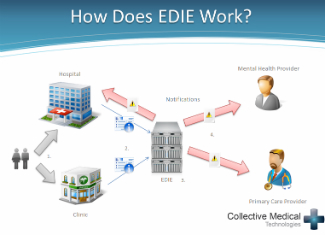 Next Up: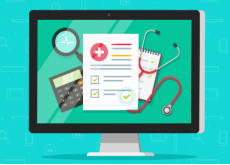 With the adoption of electronic health records at near universal levels, users of these systems have grown accustomed to having volumes of information on their patients. This has led to clinicians being overloaded with more data than they can reasonably ...
Read More
Summary
Article Name
What Is A Health Information Exchange?
Description
What Is A Health Information Exchange? HIEs are technology solutions to electronically share patient data among many organizations to improve Healthcare.
Author