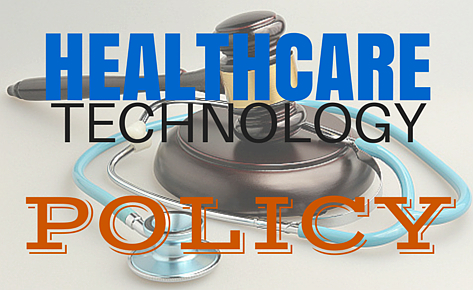 As with just about any industry of a significant size, Healthcare IT is affected by, and also affects public policy. You no doubt have a least a little understanding of the Affordable Healthcare Act of 2010, aka Obamacare. This law does have some Healthcare IT policy components that have affected the industry. However, there is another law that you may not have heard of that more directly affects Healthcare IT. It is called the Health Information Technology for Economic and Clinical Health (HITECH) Act of 2009. It specifically directs all physicians in the U.S. to be on an electronic medical records (EMR) system by 2015. The cost of the program is about $20 Billion. It provides incentives to qualifying physicians of up to about $44,000 per physician spread over several years. The payouts began in 2011 and depend on physicians documenting that they are using an EMR to a significant enough threshold to make a difference.  The term has been labeled Meaningful Use (MU), and it is phased in over three stages. Each stage raises the bar higher than the previous stage in an effort to provided better care to patients. The stages are:
Stage One – 2011-2012: Data capture and sharing
Stage Two – 2014: Advance clinical processes
Stage Three – 2016: Improved patient outcomes
If these measures seem complicated and esoteric, to a degree they are. However, many of the specific actions required of physicians are very straightforward, and hard to argue against:
Offer smoking cessation assistance to smokers, and document that action
Provide a current list of medications to patients at their office visit
Provide a web-based patient portal that allows patients to see a summary of their care
Physicians who do not comply with the rules will then face financial penalties beginning in 2015 with small reductions in Medicare and Medicaid payments that will increase over time. As 2015 winds down, there is a growing chorus from individual providers and some organizations to delay the Stage Three MU requirements.
Some  may argue that the Federal Government is overstepping its role by punishing doctors for not getting on electronic health records. I must confess that since I am in this industry, I tend to see the upside of healthcare technology, aware of the many deficiencies that have existed without it. I do take issue with one aspect of HITECH, in that it does not seem to offer any exemption for very small doctor's offices, i.e. one physician who may only have one other employee. While medium and larger sized practices aren't having much trouble implementing EMRs, some of these single doctor offices are having a hard time. There are some low-cost systems that claim to be very easy to set up, but that can still be a challenge to a small practice with no IT skills.
All in all, as this new world of Healthcare IT unfolds, there are huge opportunities to improve processes and analyze the millions of points of data that will be collected from medical practices.
Believe it or not, our Federal Government actually has a very good site on Healthcare IT, called (you guessed it) healthit.gov. It has tons of info and statistics on the industry. If you're wondering, "If the government site is so good, why have this site"? That's because I'm focused on helping beginners get into the industry, not focused entirely on Healthcare IT policy.
---
 Health Reform and Technology
While much the healthcare law focuses on getting more people signed up for insurance, there are some aspects that do bring Healthcare IT into the picture.
Accountable Care Organizations (ACO)
An accountable care organization is a healthcare system that partners with a group of patients to coordinate care and measure the health of the patient group.  Each ACO manages the health of at least 5,000 Medicare beneficiaries for at least three years. The hallmark of this model is that the Providers are not paid exclusively by the services they provide, but by the actual health of the population they serve. For example, if their patients have overall decreased obesity and smoking rates, the Providers are paid bonuses. It's a pay for performance arrangement. While some may think this is another example of Big Government meddling in peoples' personal health, remember that the US has one of the poorest performing healthcare systems in the developed world. Canada, Germany, France, and many Asian countries all have longer lives, lower infant mortality, and better outcomes in just about every area of health compared to the US. So the way I see it, this ACO experiment is at least worth a try.
Telemedicine in Rural Areas
Many of American's health problems are concentrated in rural areas where poverty is higher and communities find it hard to recruit primary care physicians (PCPs). The ACA attempts to address this by expanding the use of tele-medicine. This is where a doctor sees patients via video conference. This effort is in the very early stages, and there are social and perception barriers to overcome.
Health Information Exchanges (HIE)
In my discussions with friends and family who have no Healthcare IT knowledge, I've found that many people think that if they visit a doctor in another state from their primary doctor, all of their medical info is available. In the majority of cases, that is not true, and is one of the reasons that our government has encouraged the Healthcare sector to create Health Information Exchanges (HIEs). An HIE is a technology structure that allows physicians who are not necessarily connected to each other to exchange data about patients. The organizations who participate in an HIE are setup to transmit patient data that is able to be viewed by clinicians located in different areas, who usually use different EMR systems. Many times this data is exchanged on demand to support unplanned care for a patient, such as an ER visit. It is also helpful for patients who have complex chronic conditions that require they visit multiple specialists who are not in the same healthcare networks. I recall one story about a young boy who was being treated at Children's Hospital Colorado for a complex kidney disease and heart condition. Before electronic health records, his charts filled up one of those red wagons that are used at children's hospitals. His parents would pull the wagon around the hospital campus to allow the various physicians to then grab the paper records at each visit. Crazy, huh? Once the hospital went digital, his caregivers no longer had to haul around the volumes of paperwork.