SME stands for Subject Matter Expert (usually pronounced "Smee") , and a Healthcare SME is a person who has specific and relevant knowledge about how Healthcare IT software should be used in their day-to-day job. They are important members of both implementation projects as well as ongoing support of software products. A Subject Matter Expert in Healthcare IT provides support and advocacy for the end-users of clinical software. This a big deal in Healthcare because the SME bridges the gap between technical staff who are at times not very clinically-minded, and clinical staff who may lack technical skills.
Some of the tasks that a SME helps with are:
Assisting with evaluation of new software
Finding gaps in functionality that need to be addressed
Discovering and documenting current and proposed workflows
Communicating decisions back to their co-workers
Functioning as a Super User to provide support for co-workers
The last point above becomes really important as a project enters the support phase. A SME may work as a Super User to help their colleagues with day-to-day issues, being the initial contact before contacting the organization's help desk. The SME/Super User can then escalate more complex issues to the help desk.
Another important role for a SME is to provide advocacy and moral support for their co-workers, helping them to feel that they have a voice in the selection, configuration, and implementation of clinical software. The SME will be present in regular meetings as the project moves forward. They should have direct access to key team members such as the Project Manager, Chief Medical Informatics Officer, and implementation analysts.
How To Become A SME
The best part about becoming a SME is that it will have a positive impact on your current job, and position you well to move up within a Healthcare IT organization. A big part of becoming a Subject Matter Expert is what applies to many other parts of your career- attitude, not just aptitude. Having a willingness to step up is at least half the battle. Start by expressing interest to your Project Manager and your direct Manager. Next, start looking at your daily functions and workflows through a critical lens instead of just performing tasks without thinking or asking questions. Look for problems and inefficiencies in how routine parts of your tasks are done.
Next, you'll need to become comfortable in using software to document workflows and processes. The most common tool for this is Microsoft Visio. It's easy enough to learn, and there are many learning resources online.
There are also a number of free web-based workflow software options. In this post, I review Gliffy, which is what I use.
So, to summarize, the key points to becoming a SME are:
A willingness and attitude to help out
Ability to find inefficiencies with workflows and processes
Willingness to learn new software for documenting workflows, usually Visio.
Next Up:

Summary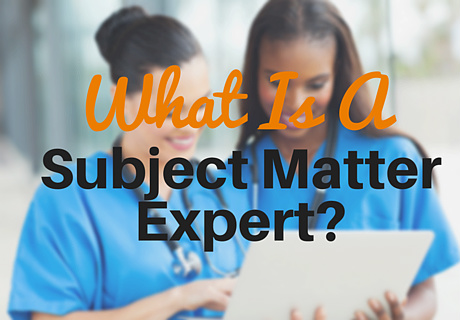 Article Name
Description
What Is An SME? A Subject Matter Expert in Healthcare IT provides support and advocacy for the end-users of clinical software. They are important members of software implementation projects.
Author
HealthcareITSkills.com
https://healthcareitskills.com/wp-content/uploads/2017/12/cropped-healthit-green-logo-1.png