Electronic prescribing of medications includes the technology and processes that handle medication orders as a replacement to paper prescriptions.  To patients, e-prescribing is simply the electronic version of a paper prescription order. This is true, but the supporting technology also covers order creation, tracking, fulfillment of prescriptions, as well as the database maintenance of the prescribing physicians, clinic locations, pharmacies, and benefits checking. There are also special requirements for electronic prescribing of controlled substances (EPCS). Let's start from the beginning, and then break down the components and entities as we go.
Electronic Prescriptions
When a patient visits the doctor and is prescribed medications, a physician who e-prescribes will have already been set up with 1) an Electronic Medical Record (EMR) system that supports e-prescribing, and 2) an account with an e-prescribing technology provider which serves as a data clearinghouse for electronic prescriptions. The main piece of information that identifies the prescribing provider is the National Provider Identifier (NPI number). Before writing the prescription, the doctor will ask the patient where they want to pick up their prescriptions. The patient's preferred pharmacy is verified in the EMR and the prescription is written. An electronic transaction goes to the patient's preferred pharmacy immediately.
The patient then visits the pharmacy to pick up the prescription. To the patient, everything is seamless, and the prescription is delivered just like any other, except that they don't have to drop off a paper prescription at the pharmacy, then either wait or come back later.
Electronic Prescribing of Controlled Substances (ECPS)
Electronic prescribing of controlled substances (EPCS) has taken a lot longer to get off the ground for many organizations. All states now allow it, but adoption rates vary by state. ECPS requires two-factor authentication to support the process. This is done with either biometric verification of the prescribing physician using fingerprint scanning, or verification from a smartphone app. This takes an additional investment in hardware, training, and auditing.
Refill Requests
E-prescribing is also able to support medication refill requests. The patient can initiate the medication refill request several ways:
By calling the pharmacy, who then sends an electronic refill request to the doctor, who then either approves or denies it. The pharmacy or the doctor's office may communicate the status of the prescription to the patient
By using a web-based patient portal that sends a refill request message to the doctor, who then either approves or denies it, then sends a message to the patient's pharmacy
By calling the doctor's office, who then either approves or denies it, then sends a refill authorization to the patient's pharmacy.
The technical components of electronic prescribing
The main technical setup is done by four parties:
The IT staff who support the physician offices who will perform e-prescribing: This group will set up the e-prescribing configuration on the EMR software, including maintaining the list of prescribing doctors for the organization
The EMR software vendor: Assists with the set up of e-prescribing on their system
The pharmacies who will fill the prescriptions: They will have their own configuration to process prescriptions
The vendor who supplies the e-prescribing solution: They provide the technical infrastructure to process prescriptions, verify licenses of prescribing doctors, and maintain and publish the list of participating pharmacies.
I should also note that the e-prescribing provider does not physically handle medications. They are just a data exchange.
Some of the databases or database tables that come into play are:
Medications table, which are usually downloaded as a "formulary" from a third-party provider.
User or Provider table, depending on what the given EMR calls them
Department table, listing all the clinic and hospital locations in a Healthcare enterprise
Medication Eligibility
In addition to fulfilling prescription orders, e-prescribing services can also provide real-time checking of patients' eligibility for medications on their own insurance plans. When the prescribing doctor writes a prescription electronically, an e-prescribing message is sent back to the EMR advising on suggested alternatives to certain medications.
E-prescribing Process Diagram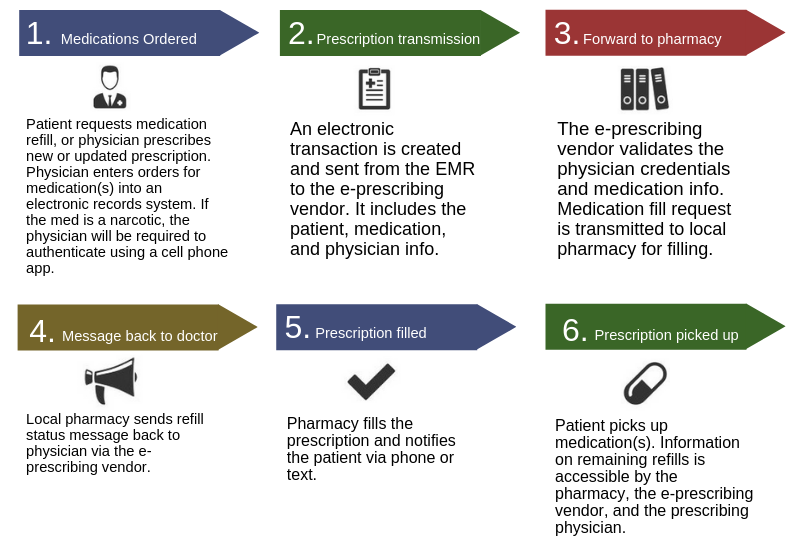 Who are the e-prescribing vendors?
Far and away the largest e-prescribing provider is Surescripts. They are based in Arlington, VA. The graphic below was taken from their website, and you can see that they have a huge portion of the e-prescribing market.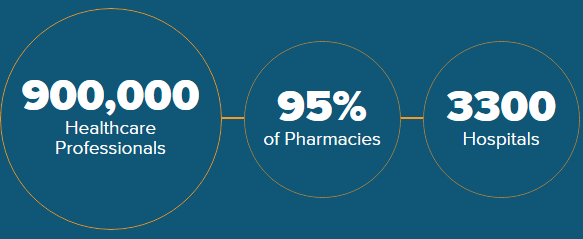 Their payment model has them getting most of their revenue from pharmacies and pharmacy vendors. There are a few other e-prescribing vendors, but they face a huge uphill battle with most pharmacies and physicians already using Surescripts.
My take on Surescripts
I spent several years in an organization that uses Surescripts. They have a web-based portal where analysts like me can manage our physicians and troubleshoot issues and questions about various transactions. As for their customer service, I'd grade them about a C+ or maybe a B. That's just my opinion. I do believe things could get interesting as a number of other e-prescribing providers offer e-prescribing on more platforms, and take different approaches to transmitting the data.
Other E-Prescribing Vendors
For years, it seemed like Surescripts had a lock on the electronic prescribing market. There have been some serious competitors that integrate with electronic health records (EHR) systems, as well as technology that is built into EHRs.
DrFirst
The next largest provider of electronic prescribing is DrFirst, based in Rockville, Maryland. They claim over 200,000 users and over a billion medication transactions. Like Surescripts, they also have medication analytics and other transaction processing technologies.
Cerner ePrescribe
Cerner Corp is a large provider of enterprise clinical solutions for organizations of all sizes. Cerner's offering in the e-prescribing space is ePrescribe, a standalone e-prescribing system that connects through an electronic data interchange.
Allscripts ePrescribe Deluxe
Allscripts is another provider of electronic clinical solutions, but they are not as large as Cerner. Allscripts ePrescribe Deluxe is a solution that allows providers to send prescription requests from the Internet, or an iPhone or other mobile device. It doesn't require any new software install or hardware.
Practice Fusion E-Prescribing
Practice Fusion is a fast growing web-based EHR solution mainly for small to medium-sized practices. Their e-prescribing solution is an integration through Surescripts.
Benefits of E Prescribing
Some of the benefits of electronic prescribing are:
Elimination of errors due to illegible hand written prescriptions,
Reduction of risk of stolen prescription pads,
Nearly instantaneous transmission of prescriptions to participating pharmacies,
Ability to compile data to understand costs, volume of prescriptions by medication, provider volume and much more,
Potential to compile data to address issue of over-prescribing of medications
Next Up: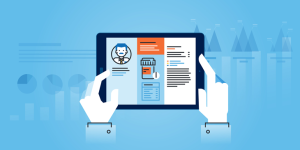 An area of great progress in healthcare technology has been the wide adoption of automated dispensing cabinets for medications and supplies in hospitals and other healthcare facilities. This technology employs the use of storage units that operate somewhat like vending ...
Read More
Summary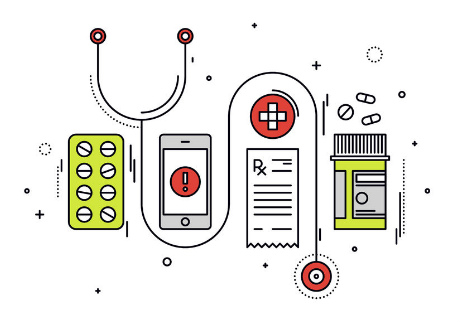 Article Name
Description
E-prescribing is the process of electronic placement and fulfillment of prescriptions using specialized software.
Author
HealthcareITSkills.com
https://healthcareitskills.com/wp-content/uploads/2017/12/cropped-healthit-green-logo-1.png