Today I'm excited to give you all a view of what the Healthcare IT landscape in Washington State looks like, particularly regarding the ubiquitous presence of Epic Systems installations. I'd like to start with a little background on how I fit into the story. From 1999 to 2008, I worked at the Seattle office of GE Healthcare, formally IDX Systems. I was an interface analyst, implementing and supporting HL7 interfaces for the Centricity Enterprise electronic health record (EHR). Beginning around 2004, we started losing major hospital clients, mostly to Epic. By 2008, we had lost practically all of our local clients to Epic, so I figured if you can't beat 'em, join 'em.
At that time, there were no major Epic installations going on in the area, but I still was able to land a job implementing another EHR at one of the local hospitals. It didn't take us long to figure out that our current systems would not make us successful in meeting Federal regulations and mandates, and didn't provide a single medical record across all care areas. So in 2010, we began the process of preparing for our transition to Epic.
During the course of our implementation, we learned a lot from other Epic hospitals in the Northwest who either had already installed Epic, or were in process like us.
Fast-forward to 2015, and now just about all major Healthcare organizations in Washington State are on Epic. At the end of this post, you'll see a great Infographic that has a breakdown of all the major Epic installs in the state, complete with locations on the map. Here is some detail and history of each organization on the list:
The Everett Clinic
The Everett Clinic is a 500 physician medical group in Snohomish County, north of Seattle. They have 25 primary and specialty locations, and have been on Epic since 2007. On September 21, 2015 they announced that they are joining DaVita Healthcare Partners, a for-profit medical group based in Colorado. They plan a huge expansion to more Snohomish County locations, as well as into King County. I don't yet know what this means for their Epic installation, as some DaVita locations use Allscripts. www.everettclinic.com
UW Medicine Northwest Hospital
Northwest Hospital is a 281 bed acute care hospital located a few miles north of downtown Seattle. Like several other hospitals in the area, they are an affiliate of The University of Washington Medical Center. The affiliation does not at this point consolidate IT operations, but serves to connect the organizations for clinical and marketing purposes. www.nwhospital.org
UW Medicine Clinics
University of Washington operates 11 primary and specialty clinics mostly in the North Seattle area and east of Seattle. Their Epic installation is supported by the main IT offices of UW Medicine. They have been live on Epic since the late 1990's. www.uwmedicine.org
Seattle Children's Hospital
Seattle Children's is a 323 bed pediatric hospital in Seattle, with various clinics and research programs. They have a very highly-regarded reputation for research and excellent patient care. They have been on Epic since 2008. Their IT operations are near their main campus. www.seattlechildrens.org
Swedish Hospital
Swedish Hospital is a 1512 bed acute care hospital, with multiple primary and specialty care clinics. They have been on Epic since the mid-2000's. On October 6, 2011, they announced a strategic partnership with Providence Health & Services. Each group still retains its own autonomy, including IT operations. www.swedish.org
PeaceHealth
PeaceHealth is an organization with 10 acute care hospitals and multiple clinic locations in Oregon, Alaska, and Southern Washington. They were a client of mine when I was at GE Healthcare, and they are now in the process of moving to Epic across all of their locations. They have IT operations mainly in Bellevue, WA; Vancouver, WA; and Eugene, Oregon. www.peacehealth.org
The Poly Clinic
The Poly Clinic is a physician-owned group of 15 primary and specialty care clinics. They have been on Epic since 2009. Their IT operations are in Seattle. What makes them different from the other organizations in the region is that their Epic system is hosted to them from Swedish Hospital. This is done through a program called Epic Community Connect, where a larger organization who has purchased Epic is allowed to sublet the system to smaller organizations who don't have the finances or staff to support their own free-standing EHR system. www.polyclinic.com
Providence Health & Services
Providence is a massive Catholic-operated Healthcare system with 34 hospitals, almost 500 clinics, hospice services, long term care, and a health plan. They initially went live with Epic at a pilot site in Alaska around the end of 2010 or beginning of 2011. They then began going live at many other locations from 2012, and continue the march forward as they acquire new locations. They are either the largest Epic client or second largest behind Kaiser Healthcare in California. IT operations for Providence are in Renton, WA. www.providence.org
UW Medicine Valley Medical Center
UW Valley Medical Center is a 303 bed hospital with 9 primary care clinics, 9 urgent care clinics, and various specialty clinics. They have been live on Epic since 2012, and their IT operations are in Renton, WA on the main campus. www.valleymed.org
Kaiser Permanente – formally Group Health
Group Health Cooperative was an Epic pioneer in Washington State, with 9 primary care clinics, 9 urgent care clinics, and various specialty clinics. In January 2016, Kaiser Permanente of Oakland, CA acquired Group Health. Kaiser is also on Epic, being one of the largest customers of the system. They have kept some IT operations open in the Seattle area.
MultiCare
Multicare is a Tacoma-based organization with 4 adult hospitals and 1 children's hospital, as well as more than 130 locations in Pierce, South King, Kitsap, and Thurston counties.  MultiCare is another long-term Epic client, at least in their primary care clinics, which have been live since the late 1990's. In the mid-2000's they implemented Epic system-wide. Their IT operations are in Tacoma, WA. www.multicare.org
Catholic Health Initiatives
Catholic Healthcare Initiatives (CHI Franciscan) is a Catholic-operated health organization with 8 hospitals, 7 urgent care clinics, and various specialties. They report to the larger Catholic Health Initiatives group in Denver, but have their own autonomous IT operations in Tacoma, WA. They have been live on Epic since 2013, but continue to grow and activate new installations all the time. www.chifranciscan.org
Epic Hospitals Infographic
Here is the Infographic with a synopsis of the organizations as well as map pins showing approximate locations of their IT operations. If you like it, please consider sharing on Pinterest or other social sites.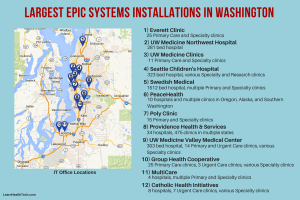 Next Up: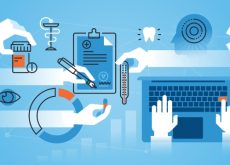 Here is where we will explore the top EHR vendors, focusing on those who specialize in either enterprise wide systems, or electronic health records for physician practice offices. Since one of the goals of this site is to help people who are starting in healthcare IT, I've tried to find ...
Read More
Summary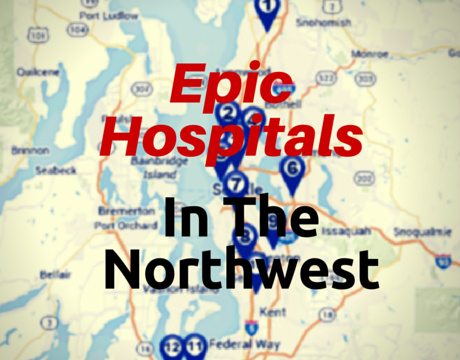 Article Name
Epic Hospitals In The Northwest
Description
Epic Hospitals in Washington State. Almost all Healthcare organizations in the Pacific Northwest are on Epic. Learn about them here.
Author
HealthcareITSkills.com
https://healthcareitskills.com/wp-content/uploads/2017/12/cropped-healthit-green-logo-1.png